Description
Don't let changes in your vision compromise your ability to make the shot!  The Verifier has a lens in it similar to those found in reading glasses.  Allows you to see your sight pins better on your hunting sight.  The Verifier lens sharpens the picture so sight pins are easy to see.
Available in Black only.
Protect your peep from dust, debris and moisture with the Peep Guard (#PG1-BLK or #PG1-RD)
The PXL Hunter EZ-View Verifier Kit includes:
PXL Hunter Peep
PXL Hunter Peep Verifier
1 each of the PXL Hunter Capture Apertures: 1/4″ (PXLHA250), 3/16″ (PXLHA187) & 5/32″ (PXLHA156)
Peep Guard
Choice of Verifier Power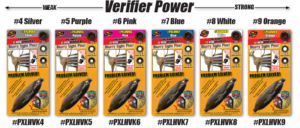 See Dealer Locator on our home page for a dealer with a Verifier Tool near you, to help you select the Verifier best suited to your needs.
Additional information can be found in the FAQs tab on our home page.
Watch the peep tying Video when you receive your peep for easy to follow instructions on proper peep installation.
CAUTION: High powered bows create a great amount of vibration.  This may loosen Verifiers, Clarifiers and Apertures over time.  Tighten your apertures before each use.  If you hear a buzzing sound, this indicates a loose aperture.  You may use a drop of Vibra-Tite VC 3 (#VC3), Teflon tape, bow wax, or any other non-permanent binding agent on the threads.