VERIFIERS
Designed To Clear Up Your Sight Pins!
Old Eyes Made New Again!
6 different powers available.
#4 (Silver) is the weakest & #9 (Orange) is the strongest.
May be purchased separately or in a kit.
1/8″ & smaller Verifiers can be used with either our Standard Size Peep Housing, or our Large Peep Housings with the use of a Reducer.
Large Verifiers are for use with our Large Peep Housings.
5/16″ XL Verifiers are for use with our 5/16″ XL Peep Housing.
New Easy-View Packaging!
Grab your bow or sight pins and pick up the Specialty Archery Easy-View Verifier Kits and See for yourself!
Now look through the packages at the different Verifier powers while looking at your sight pins. Keep in mind you want to view this at a normal shooting distance.
Too weak of a Verifier and your pins will still be a little fuzzy; too strong of a Verifier and your target will be fuzzy.
The trick is to find that Verifier that is just right for you; not too strong, but not too weak.
You will know when you have the correct Verifier power when your pins and your target are clear!
Verifiers are installed in the peep housing and are removable!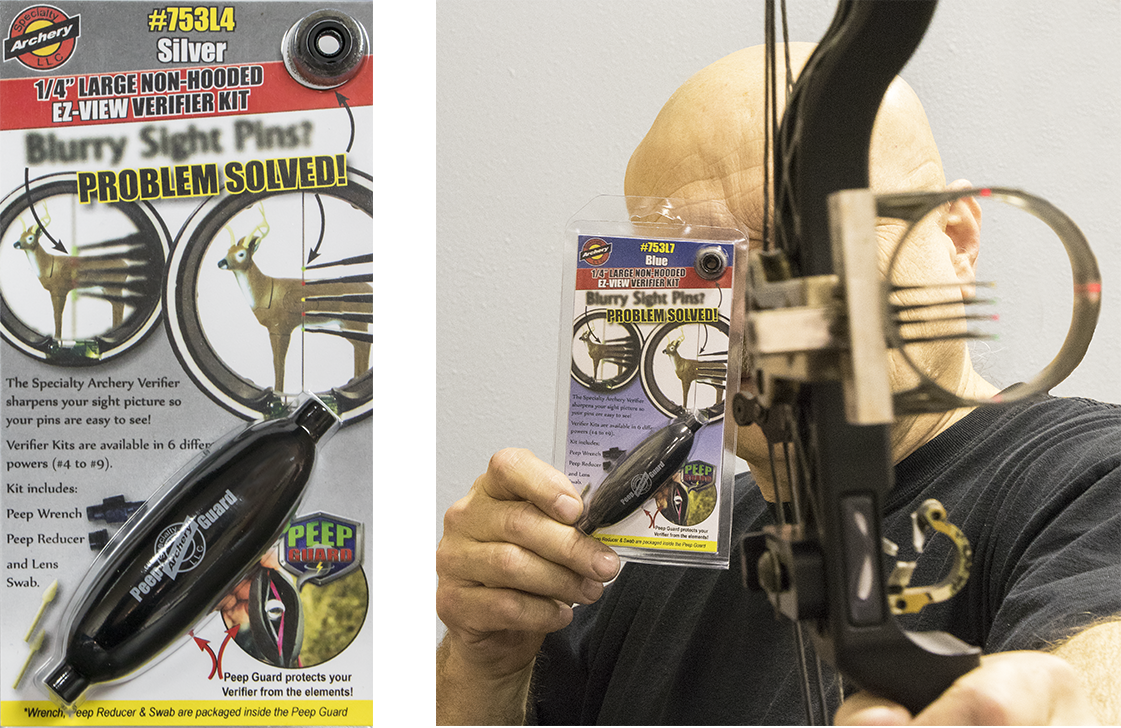 Choose Your EZ-View Verifier Kit
Large Hooded EZ-View Verifier Kits
Large Hooded Peep

Large Verifier

Dual Aperture Wrench

Peep Reducer

Lens Cleaning Swab

Peep Guard Black
Large Non-Hooded EZ-View Verifier Kits
Large Non-Hooded Peep

Large Verifier

Dual Aperture Wrench

Peep Reducer

Lens Cleaning Swab

Peep Guard Black
5/16″ XL Non-Hooded EZ-View Verifier Kits
5/16″ Large Non-Hooded Peep

5/16″ XL Verifier

XL Wrench

Lens Cleaning Swab

Peep Guard Black